EDIT MAIN
Message from the Superintendent
Jackson County is a growing community that fosters a tremendous support for public education. Our citizens realize the value and necessity of education and the role that it plays in the future of their children. Our teachers are dedicated and concerned individuals who strive daily to improve the educational process so that all of our students have the opportunity to realize their maximum potential.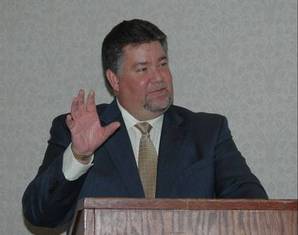 Blaine C. Hess, a native of Clendenin, West Virginia, has served as Superintendent of Jackson County Schools since July 1, 2006. Mr. Hess, a 1979 graduate of Herbert Hoover High School, earned a B.A. in Music Education from Alderson-Broaddus College. While enrolled at Alderson-Broaddus, Mr. Hess received the Williams Music Award and was recognized as the Outstanding Student of the Education Division. Mr. Hess completed his M.A. in Educational Leadership from Marshall University Graduate College.
Prior to entering the field of educational administration, Mr. Hess was a band director for 14 years, primarily in Kanawha and Jackson Counties. Mr. Hess was the band director at Ripley High School from 1987-1990 before serving as the band director at George Washington High School. While at George Washington High School, Mr. Hess was recognized as West Virginia Bandmaster of the Year and served as the chairman of the West Virginia All State Band. Mr. Hess continues to serve as an adjudicator and clinician throughout West Virginia.
Mr. Hess served as the Assistant Principal at Ravenswood High School before being named Principal at Ripley High School in 1998. During his tenure as principal, Ripley High School was named as a Pacesetter School by the Southern Region Education Board. In 2000, Mr. Hess was appointed to the position of Director of High Schools and Vocational Education for Jackson County Schools. Mr. Hess has served on various teams for the Office of Education Performance Audits and High Schools That Work Technical Assistance Teams. Mr. Hess served in this position for six years before becoming Superintendent of Schools.
Mr. Hess serves in a number of professional capacities including the Administrative Boards of the Roane-Jackson Technical Center and RESA 5, a Visiting Team Chair for the North Central Association, and actively serves as a band adjudicator for the West Virginia Secondary Schools Activities Commission. Mr. Hess is a member, and past president, of the West Virginia Association of School Administrators (WVASA). Mr. Hess was honored by the WVASA as the 2013 WV Superintendent of the Year.
Mr. Hess and his family reside in Ripley, West Virginia. He attends Calvary United Methodist Church where he is a member of the choir.