Good afternoon, I would like to take a second to thank all parents and employees for persevering through an interrupted day filled with false claims of active shooters in our schools throughout WV. Although no Jackson County School was called, the communication with our local law enforcement and state police was ongoing during the day, which is greatly appreciated. As a parent, I know callous events, such as the one today is frustrating. However, our community took immediate action to protect our schools, which should be greatly commended. Thank you - Jackson County. Have a wonderful evening. Will Hosaflook, Superintendent JCS


Good evening staff and parents: By now you should have received information regarding the Raising Boys and Girls Conference on December 9-10 at Ripley High School. This is a free conference for educators and parents. Space is limited. Please register for this event as soon as possible. Conference details and registration information can be found at jcee.org. Most importantly, please take a few moments today to thank a Veteran for their service to our country. Thank you and have a wonderful evening.

Good evening, This is a reminder that Jackson County Schools will be closed on Tuesday, November 8, 2022 for Election Day and Friday, November 11th for Veteran's Day. Thank you and have a wonderful evening.
this is a test


Good afternoon, Due to a fire on Route 33 East, one mile outside of Ripley, our evening buses could possibly be delayed as traffic is being alternated with west bound vehicles. Thank you for your patience and have a wonderful evening.

On Friday October 21, there will be a webinar to learn more about WVABLE in celebration of National Disability Employment Awareness month.. WVABLE is a savings program for people who developed a qualifying disability before the age of 26. It allows a person to save up $16,000 a year and up to $100,000 total without affecting social security benefits. Click the link to goto flier
https://drive.google.com/file/d/1amRQO8Y3nf-OPiearZ6ZUuqyCYkzXmlR/view?usp=sharing

Good evening. This is a reminder that all Jackson County Schools will be closed for students on Thursday, October 13 and Friday, October 14. Have a wonderful weekend.


2022 ADOPT A FAMILY SIGN- UP DAYS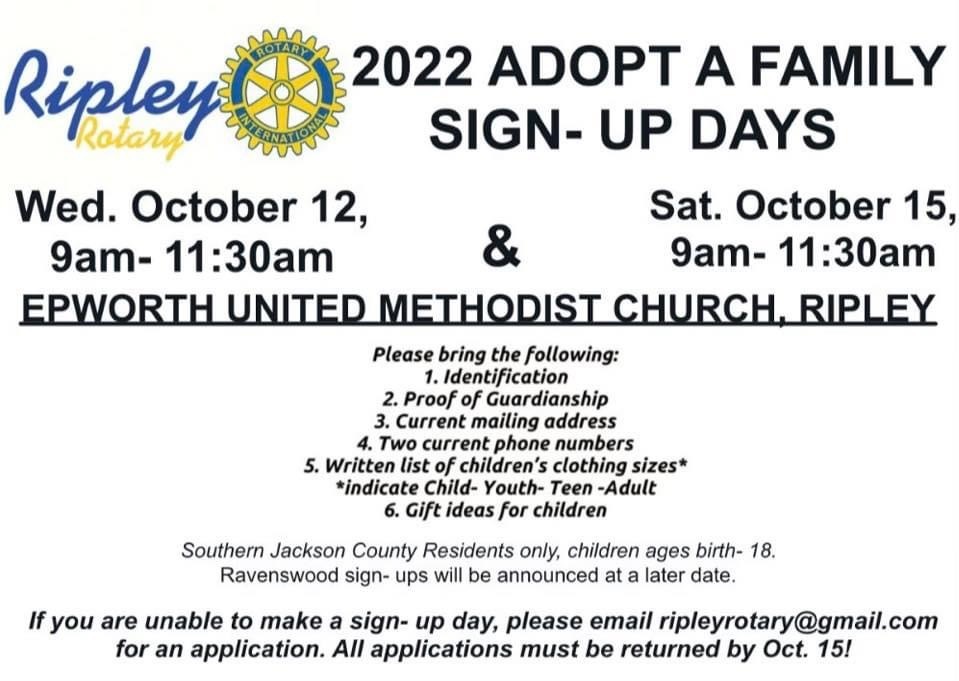 Parents and Guardians: The WV Treasury Department just announced a wonderful opportunity for students 14 years old and under. West Virginia's Savings Solution or SMART529, is celebrating 20 years by giving away three $20,000 scholarships. If you are interested, please click the following link to apply.
https://wvtreasury.com/20YEARS

Good evening. Students in grades 4-9 and 12 who took the WVGSA and SAT last spring will be receiving a video link to a special score report video this evening. These emails will be sent out to the child's school email address. If you have trouble accessing that email account, please contact your child's school. Thank you and have a wonderful weekend.

Just announced at 10:00 a.m. by the U.S. Dept. of Education. Congratulations to Evans Elementary School!!!! A 2022 National Blue Ribbon School. Only 297 out of 133,000 schools throughout the nation received this prestigious award. A big thank you to our students, Evans Elementary staff, and parents/guardians for all their hard work. Article:
https://tinyurl.com/2nyxvbeu

Update: Our local law enforcement has confirmed that there was NO threat to Jackson County Schools in West Virginia. After further investigation, the threat originated from an individual in Texas talking about similar named schools in our county. Thank you for your patience regarding this matter. Have a wonderful day.

Good morning. This is Will Hosaflook, Superintendent of Jackson County Schools. Around 1:00 a.m. this morning, Jackson County Schools was notified by the State Police and the FBI Fusion center of a possible threat targeting our schools. Jackson County Schools and the Jackson County Sheriff's Department have been working throughout the night to gather information about the threat to take immediate action for today's classes. We know that the threat found on Twitter was very vague and came from an individual in the Southwest region of the United States. However, regardless of the threat's credibility, we feel it is necessary to inform our employees and families that we are heightening our standard safety protocols and will have an increased presence of law enforcement officers in our schools today. If information should change, I will contact you immediately.  Thank you, and have a wonderful day.


Good evening. Ripley Elementary School is scheduled to open for students on Monday, August 29. We are waxing the main lobby this weekend, one of the last outstanding items to complete. We have received confirmation from the West Virginia Dept. of Education, and West Virginia DEP that the air quality is good and all disturbed asbestos has been removed. Once again, thank you for your patience on this matter as we strive to ensure a safe learning environment for our students and employees. Thank you, and have a wonderful weekend.

Good evening. This is a reminder that Jackson County Schools continues to transition from paper forms to digital forms for opening day student packets. If you choose to complete a digital form this year, all information you provide will appear in next year's forms. If you would like to complete a digital packet, please visit the Jackson County Board of Education website and click the "Parent Self Registration for School Forms Online".
https://app.droplet.io/form/jyEVeN
Thank you and have a wonderful weekend.

Good evening. This is Will Hosaflook, Superintendent of Jackson County Schools. Tomorrow brings much anticipation with the start of a new school year. I am so excited to see our students and employees back in our buildings as we work together to become the # 1 school district in West Virginia. We are so fortunate to have a fantastic community of parents and guardians that understand the importance of a first-class education and are willing to go above and beyond to ensure the success of our students and schools. During the 2021-2022 school year, Jackson County Schools ranked 9th in WV in English Language Arts proficiency and 10th in Math proficiency. However, as I mentioned earlier, our goal is to be # 1. Leading the state will not come easy. It will take hard work, determination, and perseverance from not only our children but the entire community of stakeholders demanding high expectations and excellence in our schools. I believe in our educational system, our parents, our employees, and especially our communities. Anything is possible; we just have to be willing to do whatever it takes to accomplish our goal. As always, I ask for your patience on the first day of school. There are many moving parts that we will continually perfect throughout the year. Once again, thank you for your support and encouragement as we start another exciting school year.